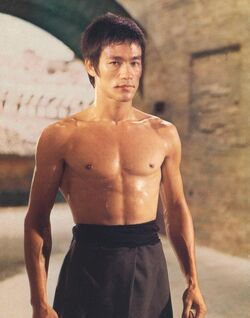 Bruce Lee (Lee Jun Fan) was born in San Francisco on 1940 and died in Honk Kong on 1973. He was one of the greatest and surelly the most influential martial artists ever, but also actor, philosofer and dancer (Cha Cha Cha). Though his incredible skills in the way of combat, Bruce Lee become much better known in the martial way due to his incredible body. He was not what could be called bodybuilder, though his dedication to the weightlifting allied with his kung fu training turned him in a icon in the bodybuilding way.
FilmographyEdit
1969 Marlowe
1971 The Big Boss
1972 Fist of Fury
1972 The Way of the Dragon
1973 Enter the Dragon
1973 Game of Death
Ad blocker interference detected!
Wikia is a free-to-use site that makes money from advertising. We have a modified experience for viewers using ad blockers

Wikia is not accessible if you've made further modifications. Remove the custom ad blocker rule(s) and the page will load as expected.